The troubled shipping company "black sea shipping" privatize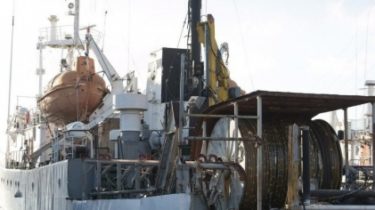 The troubled shipping company "black sea shipping" privatize
© UNIAN
"Black sea shipping company" has existed since 1833.
The state property Fund of Ukraine adopted a decision on privatization of the Odessa state shipping company "black sea shipping".
This is stated in an official publication of the FGS "Vedomosti privatization".
According to the resource, the initial cost of fixed assets on 30 September 2016 amounted to 180,4 million UAH, and the residual — 83,168 million.
See also: the failure of the privatization of Odessa portside plant could hit the pocket of every Ukrainian
In addition, privatized and state enterprise of waterways "Ustanovochnyj".
Note that the "black sea shipping" in the days of the Soviet Union had a fleet of 400 vessels. However, in the 1990s, most of the ships were transferred to offshore companies, or sold them at auction for debt. So, in 1992, the CHMP were only 255 vessels.
In 2003, the decision of Economic court of Odessa region opened the bankruptcy proceedings CHMP. And in February 2006 by the decision of the company's creditors began the process of rehabilitation.
State service of Maritime and river transport "Ukrmorrechflot" in 2011, stated that the assets of the CHMP will remain in state ownership and will not be used to cover accounts payable of the enterprise.
In the same year over time lie refused to support the request of MP Yevhen Tsarkov to the then President Yanukovych on the establishment of the Commission on the issue of the CHMP.
Meanwhile, in the query suggested to investigate any involvement in this situation, ex-President Leonid Kravchuk.
We will remind, economic court of Odessa region recently recognized the PJSC "Odessa CHPP" bankrupt.
The failed privatization: the government has failed to achieve the targeted 17 billion
TSN. Week
December 12, 2016, 00:37
Add to favourites
The same amount of the country's leadership had planned to receive from sale of state enterprises to private owners. A real gem was believed the Odessa port plant – the largest in the CIS complex for production of ammonia and urea. Sell it tried a few times. The last competition announced by the state property Fund, no one came.
Comments
comments