Dialogue Transfiguration with Ball. How social networks reacted to the press conference trump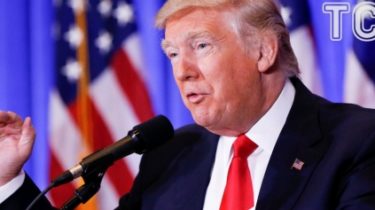 Dialogue Transfiguration with Ball. How social networks reacted to the press conference trump
© Reuters
Many users compare a press conference with speeches of Yanukovych and Putin.
On January 11 we held the first big press conference the newly elected President of Donald trump for the first time after election to office.
At a press conference at trump arrived with his sons and daughter Ivanka. A large part of the press conference, took the story of a lawyer trump Sheri Dillon on the transfer of the business Empire sons. Supposedly, trump will no longer run your business, and the children with it will not consult.
See also: At the press conference, trump gave the words of CNN journalist for the publication of damning report
A lot of questions of journalists, for example, the sanctions imposed by President Barack Obama against Russia, relations with Russian President Vladimir Putin, Donald trump did not give a direct answer. He also avoided answering journalists ' questions, asked rhetorically. Not he responded to the question of impeachment. The social media actively reacted to the responses of trump during the press conference.
Two sons will run the trump Empire. Donald trump Jr. and Eric the Dentist.
— VP (@sranysovok) 11 January 2017 R.
– Yes, here you are, a girl from MSNBC
– Donald Fridovich, we in Michigan buses are old, may affect the Governor?
– Thank you, sit down
— VP (@sranysovok) 11 January 2017 R.
In General, a wimp, this is your trump, at a press conference just half an hour lasted, the real leaders of a few hours hold.
Gray Cardinal (@slevo4kin) 11 January 2017 R.
If you compare the farewell speech of Obama's first press conference trump, it looks like the dialogue of the Transfiguration with Ball.
— Edmond Dantes™ (@deMonte_Cristo) 11 January 2017 R.
American journalism is dead, because nobody asks trump where he will celebrate Old new year and that he will be on the table.
Gray Cardinal (@slevo4kin) 11 January 2017 R.
For all pressuhu nobody asked trump to asphalt the road or spend the gas. What were going?
— AUNT ROSE (@ANAKOYHER) 11 January 2017 R.
Comments
comments