Motuzyanik could not confirm that militants found the bodies of the missing Marines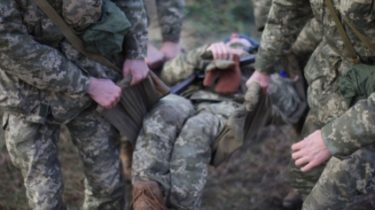 Motuzyanik could not confirm that militants found the bodies of the missing Marines
© National Academy of ground forces named after Hetman Petro Sahaidachny
The speaker of the ATO noted that it is impossible to speak about the identity of victims prior to identification and examination.
The militants said the discovery of the bodies in military uniform in the direction of Mariupol in the Donetsk region, but without an examination can not confirm that the bodies of three Marines, missing in action 8 Jan.
This was stated by the speaker of the Ministry of defence on ATO Alexander Motuzyanik at a briefing on Thursday, January 12.
See also: son of the victim from the fire in Krasnogorovka serving in the Russian army
"There are statements that side that they found a body in uniform… too Early to say, until after the identification and examination", – said Matusevich.
He stressed that as of this moment can neither confirm nor deny this information.
See also: occupied Donbas hide the deaths of Russian military and the increasing number of suicides – SMR
"Before the bodies are returned to the Ukrainian side, until a forensic examination and until after the lineup is to talk about it before," – said the speaker of the defense Ministry.
However, a cousin of one of the dead soldiers Sergey told Dniathat the identity of his brother Sergei Sonico was confirmed by photo.
As previously reported, on January 8 soldiers of the marine corps was on a mission near the demarcation line, and then returned to the location of the unit. They searched for a few days.
Comments
comments