Putin will never be a partner of the US – McCain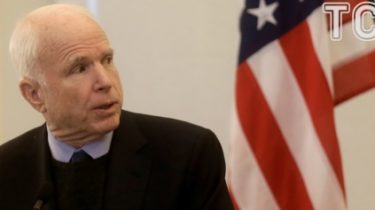 Putin will never be a partner of the US – McCain
© Reuters
Each of our last three presidents had high expectations for partnership-building with the Russian government, – said the Senator.
The leadership of the Russian Federation headed by Vladimir Putin will never be a partner of the United States, including in the declared fight against ISIS. Putin is using America to have an enemy, and it lasts years.
This was stated by us Senator John McCain, writes UKRINFORM.
"Each of our last three presidents had high expectations for partnership-building with the Russian government. Every attempt was defeated not because the officials did not have enough good will, but through the undeniable fact that we have ultimately to admit that Putin wants to be our enemy, we need him as an enemy," said McCain.
"He (Putin – ed.) will never be our partner, including in the fight against ISIS. He believes that the strengthening of Russia is to weaken America. We should really act on this basis", – said the Senator.
He recalled that in recent years Putin has invaded Ukraine, occupied Crimea, and threatened US allies, has carried out military intervention in Syria, leaving behind death and destruction, broke their promises.
"The Russian military were aimed at Syrian hospitals and brigades of first aid with precision weapons. Russia supplied weapons shot down a commercial flight over Ukraine. The war unleashed by Russia, claimed the lives of thousands of Ukrainian soldiers and civilians. And the most telling demonstration of the fact that Putin despises our country, it was the deliberate intervention of Russia in our recent elections by cyber attacks and campaign of misinformation aimed at weakening America and the discrediting of Western values," added the Senator.
For this, according to him, the US should stand in the position of power against Russia or any other enemy that seeks to undermine U.S. national interests and to challenge the world order.
"We have to restore the policy of containment, and it is primarily the work of the defense Ministry", concluded McCain.
Read also: Russia has a very weak economy, and the United States could weaken it even more – McCain
Recall that in the U.S. Senate began hearings of candidate for the post of head of the Pentagon James Metts, which was promoted by the newly elected President of the United States Donald trump.
On the question of Senator John McCain that Mattis thinks about Putin's actions in the Donbas and in the Crimea, and sanctions, the US needs to sit "idly by", the candidate responded that the best way is to turn to history.
A group of senators filed a bill to impose tough new sanctions against Russia
TSN. Wounds
Yesterday, 12:25
Add to favourites
Among the authors of the document – in particular, Republican John McCain and Democrat Robert Menendez. Higher pressure serves to resort to cybercrime from Moscow during the presidential campaign. The bill provides for the introduction of personal sanctions against persons involved in hacking attacks.
Comments
comments