Case Martynenko: the NABOO and the protection of former MP differed in the interpretation of a judicial decision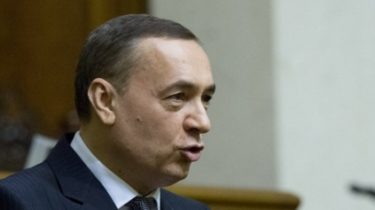 Case Martynenko: the NABOO and the protection of former MP differed in the interpretation of a judicial decision
Mykola Martynenko© UNIAN
The court was forced to explain its decision.
The decision of Solomensky court of Kiev on the complaint of lawyers of the people's Deputy Nikolay Martynenko, who because of the scandal, gave up his mandate, received conflicting interpretations of the parties of this case – NABOO and defenders of MP. Because of the wide publicity of the case in the press, the court, through the social network explained its decision.
On 11 January the court ruled on the complaint of the lawyer, Martynenko, Peter Boyko – on the procedural inactivity of the persons the prosecution during pre-trial investigation in criminal proceedings. Lawyers after the trial said that the case against the MP was closed.
However, the National anti-corruption Bureau did not agree with such statements. And said that the decision of the court is not forcing them to stop the investigation.
"Detectives of the National anti-corruption Bureau of Ukraine continues the investigation of the facts of receiving a bribe (improper benefits) while the acquisitions made by GP "NAEK "Energoatom". Statements of commitment of the Bureau to close this alleged production by the court, are not true. January 11, Solomenskiy district court of Kyiv has rejected the defense of Mykola Martynenko in closing a particular production. But ordered the Bureau to consider only the petition of the representative Martynenko and in due time to inform on the outcome of that consideration," the statement reads NABOO.
The document was published by journalist Natalia sedletsky:
To resolve the dispute, the Solomensky court of Kiev explained that the complaint of lawyers satisfied partially, namely the inaction of NABOO in the facts of untimely consideration of the petition of lawyers for Martynenko and untimely closure cases. But it does not require the immediate closure of the case.
"An obligation mandated procedural face prosecution … to consider the petition of the defender Martynenko Nikolai Vladimirovich – lawyer Petro Boyko A. from 12.12.2016 and within ten days after the proclamation of the resolution of the investigative judge to take a decision on the results of its consideration, taking into account the conclusions and findings set forth in the reasoning part. In the rest of the complaint is denied," explained the court.
The NEB notes that this complaint concerns the criminal proceedings on the facts of obtaining illegal benefit in the procurement of SE "NNEGC "Energoatom", which Office registered in December of 2015. During the investigation detectives Bureau found evidence of harm to the interests of SOE "NNEGC "Energoatom" in the amount of 6.4 million euros for overpayment for the purchased equipment from the Czech joint-stock company "Skoda JS".
The Bureau explained to TSN that Martynenko could not be considered a defendant in the caseuntil the investigation and is not declared suspicion. However, the detectives NAB at the hearing, said that the theft may have one of the deputies. And the media claimed that this may be MP Mykola Martynenko.
Comments
comments