Rescuers removed the girl with unusually thin ice on a lake in Kiev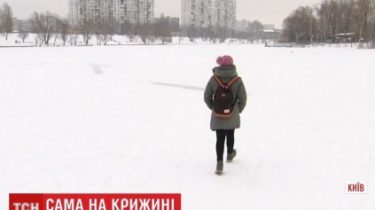 Rescuers removed the girl with unusually thin ice on a lake in Kiev
The child stood in the trap for about an hour, because any move could be fatal.
Kiev rescuers recovered the girl who almost got carried away on an ice floe in the middle of the lake telbinthat on birch. 12-year-old Eugene daily skating, but this time the ice beneath her dipped and she was trapped, says the story TSN.19:30.
"One aunt said, there is better not ride, but I didn't hear what she said. I went, then began to crack the ice. I walked a little bit, everything was fine. But I looked around and there were my footprints with water," – said Eugene Mikhailenko. Any next step could be the last, so the girl decided to wait. Who called rescuers, she doesn't know. But after 8 minutes after a call to employees of gschs in wetsuits were out on the lake.
Kiev rescuers pulled from the lake schoolgirl who was trapped
TSN. 19:30
Yesterday, 21:03
Add to favourites
The girl was almost carried away on an ice floe in the middle of the lake telbin. 12-year-old Eugene daily skates. But this time the ice beneath her subsided, and she was trapped, everywhere surrounded by water.
"To the extent where she was, neither right nor left, neither backward nor forward – it was impossible to move. She would have failed," says one of the rescuers Yuri Dougan. In minutes the girl was saved. Employees of gschs warn that the aerators do not allow the lake to freeze reliably even in low temperature. So I advise anyone who decides to go on the ice, be extremely careful. This is especially true of fishermen and lovers to plunge into the water of Baptism, which is celebrated next week.
As previously reported, at the Kiev reservoir near a hydroelectric power station discharge of water formed a gully near the coastline. Thus on the ice detached from the shore, appeared six fishermen. The incident occurred on 4 January.
The TSN reporter Stanislav Feshchenko
Comments
comments