The ex-fighters of "Tornado" attacked the guards Lukyanovka jail – volunteer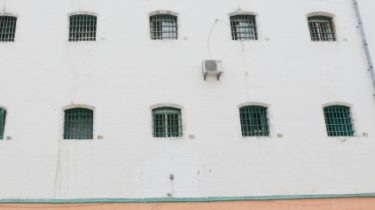 The ex-fighters of "Tornado" attacked the guards Lukyanovka jail – volunteer
© Reuters
Police confirmed the attack.
Former soldiers of the disbanded specrate MIA "Tornado" attacked the guards Lukyanovka jail.
About it in Facebook said volunteer Roman Sinitsyn.
He noted that at the scene of many police.
The speaker of Ukraine Yaroslav was Trakalo comments in the "pack" confirmed the fact of attack.
According to him, previously it is established that in the prison building there was a conflict between prisoners, which were taken after the court hearing, and the convoy there was a conflict.
One of the prisoners self-inflicted injuries. After that protected and was hospitalized.
During the conflict, the jail building was surrounded by police in order to maintain order.
Yaroslav was Trakalo could not comment on the information that prisoners are the soldiers of company "Tornado". According to him, this information can only inform the Ministry of justice.
The case against "tornadovtsev" was launched in 2015. Soldiers were accused of a number of crimes: torture, abuse of authority, infliction of bodily injury, including sexual violence, forming a criminal group.
One of the former fighters of "Tornado" Yuri Shevchenko admitted in the torture, illegal imprisonment and abuse of power. None of the 13 defendants not guilty. Case fighters called revenge for their opposition to the smuggling in the area ATO.
Fire: why are the names of soldiers of the battalion "Tornado" present in most high-profile Affairs of the country
Program
October 1, 2016, 22:10
Add to favourites
25 September in the river were killed two patrol officers – Olga Makarenko and Artem Kutushev. The suspect – the native of Russia, a former employee of a specialcompany of the Ministry of interior Tornado Alexander Pugachev – the same day it was detained by militiamen. Who is this Alexander Pugachev and why is he being wanted, quietly walked the city and used mobile phones?
Comments
comments