The foreign Minister of Poland laugh compatriots, describing the negotiations with a non-existent country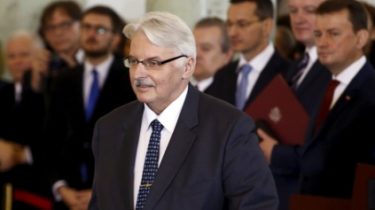 The foreign Minister of Poland laugh compatriots, describing the negotiations with a non-existent country
© Reuters
The poles began to mock Wasikowski in social networks.
The Minister of foreign Affairs of Poland Witold Waszczykowski has become an object of ridicule in their own country once told about the negotiations with the representative of a non-existent country San Escobar.
Speaking on Tuesday to reporters in new York, Waszczykowski told me that he held meetings with officials from nearly 20 countries, including some countries of the Caribbean "for the first time in the history of Polish diplomacy. For example, Belize or San Escobar," reports The Guardian.
The last country, as quickly noticed a lot of people does not exist.
The press Secretary of the foreign Ministry of Poland Joanna Wajda later wrote on Twitter that the Minister misspoke, referring to Saint Kitts and Nevis, two Caribbean Islands, which in Spanish sounds like the San Cristobal and Nieves.
But this clarification did not prevent social media users to start to mock Wasikowski. Using the hashtag #SanEscobar, Twitter users are joking and even invented a flag for San Escobar.
See also: Poland acknowledged that the policy of "Eastern partnership" ended in disaster
In Facebook appeared a page that publishes photos of an imaginary country. Among them – the comic image, as in San Escobar erect a huge statue Waszczykowski in honor of his contribution to relations between the two countries.
One account, which is called San-Escobar, tweets "political statements" and photographs of landscapes non-existent country. Among other things it was stated on the abolition of visa regime between San Escobar and Poland. Another user of the social network has placed a photo of San escobars banknotes, which depicts the leader of the ruling party of Jaroslaw Kaczynski.
#SanEscobar State Council introduces a visa-free regime with Poland, and a visa requirement for @SealandGov citizens, starting Jan 15th.
San Escobar (@rpdsanescobar) 10 Jan 2017
@rpdsanescobar here you go pic.twitter.com/s8s8UXkLqG
— Ewa Lalik (@ewqaewqa) 10 Jan 2017
Comments
comments