Avtodorovtsy revealed the secrets of cleaning of Kiev from the snow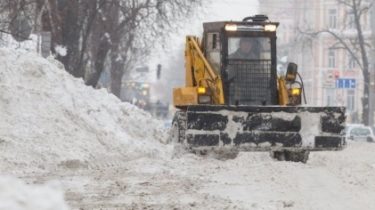 Avtodorovtsy revealed the secrets of cleaning of Kiev from the snow
© UNIAN
Road workers are told which streets Poipet pure salt, and which goes to the mixture with sand.
Due to the early winter with a powerful snowfall in the Goloseevsky district of Kiev used most of the salt purchased for posypki roads.
This was the "TSN.Tiiny" said the head of Holosiivskyi district DEU Alexey Goncharov.
See photos: Tall snowdrifts and frozen birds. As the world is undergoing the most fierce over the past half century cold
"Purchased 4 200 tons of salt 4 million hryvnia," – said Goncharov, showing much empty hangar.
Also avtodorovtsy told that pure salt sprinkled on only the Central streets, but on the periphery have save by mixing salt with sand.
It is likely that further savings will have on the Central highway. Now in inventory at Kiev about 20 thousand tons of salt. And according to weather forecasts, this weekend in the capital again expected snowfall.
The correspondent of "TSN.Tyzhden" Natalia Yarmola inspected as avtodorovtsy struggling with the snow-swept roads and found out why the capital of the clearing not as rapid as we would like. Watch this Sunday at 19:30 in the story "TSN.Tyzhden" on channel 1+1!

Why on Ukrainian roads with snow disappears asphalt
Snidanok 1+1
Today, 09:42
Add to favourites
Just a few snowfalls and the roads in Ukraine has become the tracks on SUVs. Almost 90% of Ukrainian roads require overhaul, and the funds will not be allocated. Recently the Verkhovna Rada adopted the law on the establishment of a special State road Fund to provide financing for repair and construction of roads in Ukraine.
Comments
comments