"Conversational diplomacy" are insufficient to resolve the conflict in Syria and in Ukraine – Hollande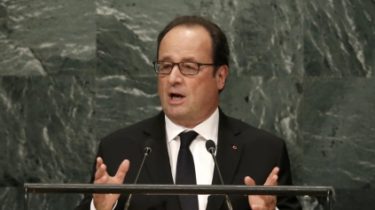 "Conversational diplomacy" are insufficient to resolve the conflict in Syria and in Ukraine – Hollande
© Reuters
Hollande also said that "dialogue is important, but we must not make concessions to our interests and principles."
For the solution of conflicts in Syria and Eastern Ukraine is not enough "conversational diplomacy."
This was stated by the President of France Francois Hollande, writes RFI.
"It is not enough to keep saying "we need to conduct a dialogue with Russia," we do not cease to do so. But the problems do not disappear if we are talking about them: it would be very simple. There is no conversational diplomacy. There is active diplomacy. Everything else is illusion" – said the President of France.
Hollande also said that "dialogue is important, but we must not make concessions to our interests and principles."
"I met with Putin many times and discussed with him all the conflicts. I never thought that Russia can do to solve them", – said Hollande, citing the example of the agreement with Iran and the conflict in Ukraine.
Read also: Merkel and Hollande want to extend the sanctions against Russia
Recall. earlier, French President Francois Hollande said in Baghdad that Iraqi troops within a few weeks will liberate Mosul from the militants of the "Islamic state".
ID retreats, so the international community should strengthen support of the Iraqi armed now, said the French President at a joint press conference with Prime Minister of Iraq Haider al-Abadi.
Angela Merkel and Francois Hollande said that further sanctions against Russia
TSN. 16:45
December 13, 2016, 18:00
Add to favourites
Sanctions against Russia should be extended because the progress in the implementation of the Minsk agreements is small. The decision to extend economic sanctions against Russia, the EU can take in two days after the summit in Brussels. At this meeting, will also discuss relations between Russia and the EU.
Comments
comments