Is taunting Putin and dancing to "Oh, Smereka". Best videogame Obama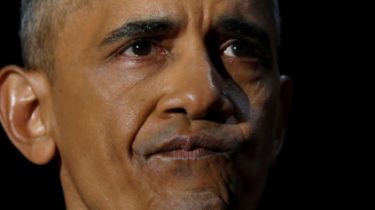 Is taunting Putin and dancing to "Oh, Smereka". Best videogame Obama
© Dnia
Top 20 coubs in one video
The presidency as the 44th President of the United States coming to an end and after a week, Barack Obama will leave the White house.
To sum up eight years of Obama to the highest post, TSN.ia decided to remember not only his political UPS and downs, but funny cases and unexpected incidents that have happened with the President.
See photos: Hugs, tears and sincere smiles. Obama last addressed the citizens of the United States as President
His dancing, singing, jokes and meeting with politicians and ordinary people, have always attracted much attention of the world media, and Internet users intensified interest in them, creating funny videos and demotywatory.
In our video contains the best, according to the editorial, videogame Barack Obama. Most of them created by fans of the service Сoub.
Barack Obama, who held the U.S. presidency for two terms since 2009, will leave the White house on January 20. This day will be the inauguration of the elected President of Donald trump.
Comments
comments