To pay or not to pay. Instructions on what to do to inhabitants of Kiev with the new receipts for communal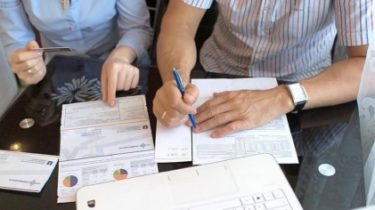 To pay or not to pay. Instructions on what to do to inhabitants of Kiev with the new receipts for communal
© Kyivenergo
Term of payment for utility services for the residents of the capital was extended to January 25.
The people of Kiev received a receipt for payment of housing and communal services in December of the new sample. In the payment collected by all kinds of services – housing, water, electricity, heating and gas. Accrued amounts are only for rent and cold water. The other points are empty.
New receipts formed the municipal enterprise "Main information and computer center" (givc), however, not fully agreed on its format with private suppliers of utilities (heat, hot water, electricity and gas). And therefore have any questions, whether it is to pay for these receipts.
In Kyiv city state administration said that the receipts that formed givc, are required to pay only the rent and water. Payment deadlines extended until January 25, instead of the traditional preferential 20th day of each month.
Private providers communology suggest to pay only for receipts that have shaped their businesses.
"In connection with the distribution of enterprise "Main information-computing center" bills new format common to all utilities, please note that the payment service of "Kyivenergo", as before, shall be solely for the payment "Kyivenergo". Account "Kyivenergo" for the electric power you will get until January 16, and the heating and hot water from 15 to 22 January", – stated in the message of "Kyivenergo".
PJSC "kyivgas" also urges Kiev to pay for gas exclusively on the basis of the payment documents received from the GP "Kavkasioni".
Meanwhile, the "Ukrposhta" from 1 January 2017 at its Metropolitan branches stopped accepting payments for utilities, receipts for which forms givc. Called this service is unprofitable and want to increase the Commission three times – up to 1.5%. Givc did not agree, and therefore payments were stopped indefinitely. To pay these receipts can be in public or private banks or through electronic payment systems.
Kiev bewildered new payments
TSN. Wounds
Today, 08:44
Add to favourites
This month utility receipts came on one piece of paper and filled data. In the mayor's office explained the new format for bills the false start of the programme so-called "single receipt". More confused older people. Everything was added and problems with payment. Ukrposhta this year does not accept payments for communal services because the service is unprofitable for her.
Comments
comments