Ukrzaliznytsia wants to run to Poland, another high-speed train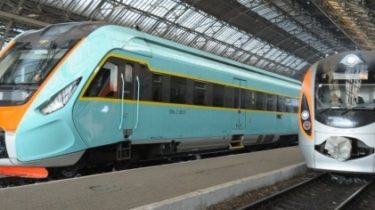 Ukrzaliznytsia wants to run to Poland, another high-speed train
© UNIAN
New "intercity+" needs to connect the Ukraine with the Polish city of Chelm.
State enterprise "Ukrainian Railways" is considering the possibility to launch another high-speed train "intercity+" to Poland. The final stop is the city of chełm, 25 km from the Ukrainian-Polish border in Volhynia. At the end of 2016 like the train was connected to Kiev through Lviv with the Polish Przemysl.
"The immediate future – train in chełm, where there is the Ukrainian standard track width of 1520 mm. are Also considered and other destinations in Europe, particularly in the Baltic States is already in the medium term" – said in an interview Delo.ua Director of passenger transportation and service of "Ukrzaliznytsia" Igor Romanko.
Also consider expanding the message Przemysl at the expense of suburban trains.
The extension of railway communication of Ukraine with Europe is problematic, because there is more narrow gauge than in the countries of the former USSR, when they built the current railway infrastructure of Ukraine.
Meanwhile , experts have put forward two reasons for the cold in the wagons "Ukrzaliznytsia".
Comments
comments