Omeljan told how many kilometers of roads and at what price, repaired in Ukraine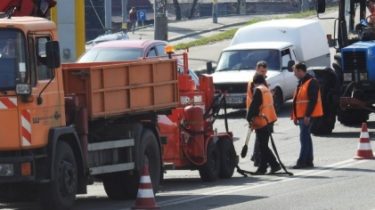 Omeljan told how many kilometers of roads and at what price, repaired in Ukraine
© UNIAN
In 2017 the repair plan to allocate 30 billion.
During the current year in Ukraine for 30 billion provided by the state budget and other sources of funding, plan to repair at least 2-2,5 thousand kilometers of roads and almost 80 bridges.
The price of capital repair of one kilometer last year, cost 7 million UAH. It is much cheaper than five years ago, assured in the air "Sedanka z "1+1" the Minister of infrastructure Vladimir Omelian.
He said that last year in Ukraine was repaired about a thousand kilometers of roads.
See also: Avtodor "revealed the secret" of the bad roads in Ukraine
We will remind, in 2015, the then head of "Ukravtodor" Sergei Podgainy said that prices of that year indicative standard cost construction one kilometer of the highway first category ranged from 70 to 100 million UAH, reconstruction of 40-80 million UAH, overhaul – 20-30 million UAH, current average repair – 8-12 million. This writes the "Centre of transport strategies".
According to the State road research Institute. Shulgin, to build roads in Ukraine is much cheaper than in other leading countries of the world.
"In the United States the construction of one kilometer of the highway first category costs $ 10 million, Canada 11 million dollars, and in Europe – from 10.5 to 14.5 million euros," – said in 2015 "Ukravtodor".
Vladimir Omelian said, when in Ukraine there will be normal roads
Snidanok 1+1
Today, 09:49
Add to favourites
Almost 90% of Ukrainian roads need major repairs. But it is not often allocate funds or their is just not enough. Minister of infrastructure Volodymyr Omelian said that this year Ukravtodor will receive about 30 billion UAH for road repairs. Enough of the money to put our roads in order and finally when in Ukraine there will be normal roads – find out in our story.
Comments
comments