Defenders of Avdiivka industrial area received original gifts for Christmas and New year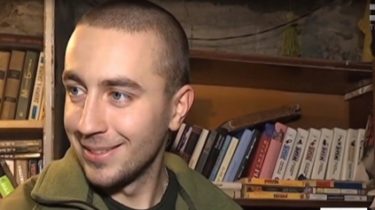 Defenders of Avdiivka industrial area received original gifts for Christmas and New year
The military have an interesting baby greetings, toys, and most importantly – books.
In one of the hottest spots of the ATO increases the front of the library. To Christmas and new year holidays defenders of the industrial zone of the Town, in addition to other gifts, sent books, according to a story TSN.19:30.
Also, the men sent greetings, toys, amulets, clothes and bales of seemingly mundane, but essential amenities. Sometimes, the gift is even homemade fruit compote, which at the front are very happy.
Literature soldier Yuri collects is not the first month. In the collection there is a series of books by Conan Doyle, a biography of Ford, Mozart and Beethoven, but also modern authors. "Many people sent their books and immediately signed up," says the soldier. Before mobilization, he worked in a bookshop and admits that even then did not have access to such a number of Ukrainian-language literature. Now it is for every taste: the classics, history, fiction, science, and the like. A soldier said, picking the book to his colleagues was able to mentally relax from the front, so the literature on the war is here an unspoken taboo.
The TSN reporter Eugene Zvecanska
The library at the forefront: new year holidays in the hot spots ATO donates books
TSN. 19:30
Yesterday, 21:39
Add to favourites
In addition to traditional packages, the defenders of Avdiivka industrial area from across the country sent books. Now in ordinary soldiers ' shelter you can find any genre of literature: classic, historical, even scientific literature for every taste and character of the military.
Comments
comments