"Ice age". In Germany the Fox was frozen into the river during severe frosts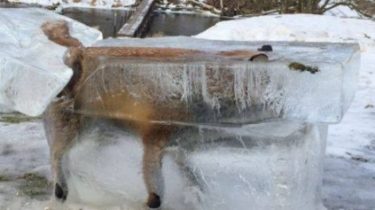 "Ice age". In Germany the Fox was frozen into the river during severe frosts
© Facebook/CGTN
The poor animal was found by the hunters.
Due to bad weather in Europe, which was covered with a strong cyclone, Fox's iced in a block of ice after falling into the river.
The incident occurred in Germany to the Danube river, reports The Sun. It is noted that the Fox fell into the river about four days ago, before it was discovered by the hunters.
See also: anomaly: photographers photographed rotating ice circles in rivers
According to the report, the poor animal was pulled together with a block of ice.
Recall that the number of dead in the Balkans, Greece and Eastern Europe because of the severe frosts have increased, according to the authorities, until at least 73 people.
Tall snowdrifts and frozen birds. As the world is undergoing the most fierce over the past half century cold
Curiosities
January 12, 12:42
1 of 20

Bad weather in Russia
© Reuters

1 of 20

Bad weather in Britain
© Reuters

1 of 20

Bad weather in Britain
© Reuters

1 of 20

Bad weather in Britain
© Reuters

1 of 20

Bad weather in Britain
© Reuters

1 of 20

Weather in the Czech Republic
© Reuters

1 of 20

Bad weather in Germany
© Reuters

1 of 20

Bad weather in Germany
© Reuters

1 of 20

Bad weather in Germany
© Reuters

1 of 20

The weather in Macedonia
© Reuters

1 of 20

The weather in Macedonia
© Reuters

1 of 20

The weather in the U.S.
© Reuters

1 of 20

The weather in the U.S.
© Reuters

1 of 20

The weather in the U.S.
© Reuters

1 of 20

The weather in the U.S.
© Reuters

1 of 20

The weather in the U.S.
© Reuters

1 of 20

The weather in the U.S.
© Reuters

1 of 20

The weather in Macedonia
© Reuters

1 of 20

The weather in Macedonia
© Reuters

1 of 20

Bad weather in Lebanon
© Reuters
Bad weather in Russia
© Reuters

Bad weather in Britain
© Reuters

Bad weather in Britain
© Reuters

Bad weather in Britain
© Reuters

Bad weather in Britain
© Reuters

Weather in the Czech Republic
© Reuters

Bad weather in Germany
© Reuters

Bad weather in Germany
© Reuters

Bad weather in Germany
© Reuters

The weather in Macedonia
© Reuters

The weather in Macedonia
© Reuters

The weather in the U.S.
© Reuters

The weather in the U.S.
© Reuters

The weather in the U.S.
© Reuters

The weather in the U.S.
© Reuters

The weather in the U.S.
© Reuters

The weather in the U.S.
© Reuters

The weather in Macedonia
© Reuters

The weather in Macedonia
© Reuters

Bad weather in Lebanon
© Reuters
Comments
comments