The militants are trying to take revenge on the Georgian Legion of the lost positions in the Donbas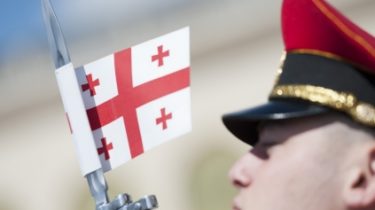 The militants are trying to take revenge on the Georgian Legion of the lost positions in the Donbas
© Getty Images
True friends of Ukraine said that the occupiers have no chance to upset their holiday.
On new year's day of the old Julian calendar, the militants have intensified in the ATO area and shelled the positions of Ukrainian troops about 60 times. Was the enemy used heavy artillery and infantry attack on the locomotive APU, says the story TSN.19:30.
DRG enemy tried to come closer to the positions of the Ukrainian military yesterday evening, however, as a result of military clashes, this plan failed. According to the ATO headquarters, was wounded one of the attackers, with the result that he died, and the body from the battlefield took military APU. Near the Town there were lively skirmishes with mortars, rocket-propelled grenades and machine guns, and the arc Svetlodarsk at Trinity and Novozvanivka the enemy fired from the 122 and 152 of calibers is heavy artillery. "Judging by the entrance, came from Pervomaisk. Flight — here is the first hut, 50 metres flew. Men in shirts were born. If this gets into house from the house there is nothing left," commented the consequences of fire fighter 25th battalion Anatoly Adamovsky.
Quiet on the front line fighters and do not give the Georgian Legion, who was also fighting near the Svetlodarsk arc. They constantly heard the explosions and machine gun fire. The guys say that the militants repelled them revenge for last month's height, but the Georgians fighting spirit despite the constant attacks, do not lose. "They're trying to recapture their positions for us to put some damage on these holidays to us was bad. But they do not wait, we will not be bad", – assured the Deputy commander of the Georgian Legion, Zurab. The mood of the Georgians raise volunteers, which brought to the forefront the Christmas pudding, various Goodies and sang along with the veterans, the national Anthem of Ukraine and Georgian songs. In the sanctuary was dominated by a festive atmosphere.
The TSN reporter Mariana Buhan
Comments
comments