The threat to U.S. national security and sovereignty of Ukraine, Obama explained why extended sanctions against Russia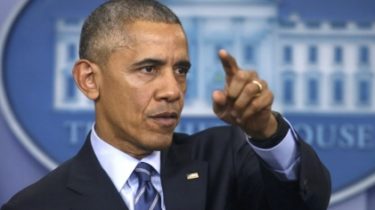 The threat to U.S. national security and sovereignty of Ukraine, Obama explained why extended sanctions against Russia
© Reuters
The American President is angry over the annexation of Crimea, the Russian Federation and the use of force in Ukraine.
President Barack Obama has extended for one year sanctionsimposed on Russia in March 2014 due to the Russian aggression in Crimea and Ukraine.
It is reported by Interfax.
He extended the decree # 13660, issued on March 6, 2014, which is then supplemented by other decrees that expanded sanctions against Russian individuals and organizations.
"The actions and policies that are answered by this decree, continue to pose unusual and extraordinary threat to the national security and foreign policy of the USA", — stated in the order of the outgoing President.
In a letter to leaders of both houses of Congress, the us President listed what continues to constitute a threat to the United States.
"The actions and policies of persons who undermine democratic processes and institutions in Ukraine; threaten its peace, security, stability, sovereignty and territorial integrity; contributing to the misappropriation of assets, as well as the actions and policies of the government of the Russian Federation, including its deliberate annexation of Crimea and use of force in Ukraine", — said in a letter to Barack Obama.
See also: trump believes that Obama went too far with the extension of sanctions against Russia
Earlier, the us leader promised that the United States is not limited to publicly announced sanctions and will continue to take various measures against Moscow.
We will remind, in the U.S. Senate introduced a bill on new sanctions against Russia because of cyber attacks and the situation in Ukraine. Republicans John McCain, Lindsey Graham, Robert Portman, as well as Democrats Ben Cardin and Bob Menendez introduced in the Senate a bill on additional sanctions against Russia due to the Russian cyber attacks and the situation in Ukraine. The proposed sanctions affect individuals and energy complex and the banking system.
A group of senators filed a bill to impose tough new sanctions against Russia
TSN. Wounds
January 11, 12:25
Add to favourites
Among the authors of the document – in particular, Republican John McCain and Democrat Robert Menendez. Higher pressure serves to resort to cybercrime from Moscow during the presidential campaign. The bill provides for the introduction of personal sanctions against persons involved in hacking attacks.
Comments
comments