Trump has promised the appearance your own report about the hacker attacks within 90 days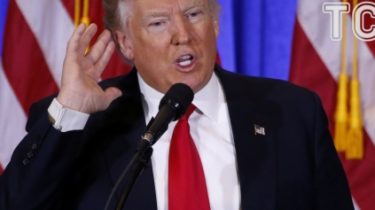 Trump has promised the appearance your own report about the hacker attacks within 90 days
© Reuters
He said that the fake news truths slippery political types.
The US President-elect Donald trump has promised that his people will prepare their own report concerning hacker attacks, which will be submitted within three months.
He said this on Twitter.
Totally made up facts by sleazebag political operatives, both Democrats and Republicans – FAKE NEWS! Russia says nothing exists. Probably…
— Donald J. Trump (@realDonaldTrump) January 13, 2017
released by "Intelligence" even knowing there is no proof, and never will be. My people will have a full report on hacking within 90 days!
— Donald J. Trump (@realDonaldTrump) January 13, 2017
He said that the fake news truths "slippery political types, both from the Democratic and Republican parties."
See also: Two decades in Russia and exposing corruption in UEFA: the possible author of the dirt on trump
"My men will prepare a complete report about the hacker attacks within 90 days!", – he wrote.
Previously, the CIA said that Russia is deliberately carried out attacks during the election race, to help Donald Trump win the election, not in order to undermine the credibility of the electoral process of the country. In the investigation established the identity of those who were closely associated with the Russian government and WikiLeaks leaked thousands of messages of Democrats, including mail to the Chairman of the election campaign of Hillary Clinton.
CNN requires trump evidence of the spread of the fake news channel
TSN. Wounds
January 12, 13:31
Add to favourites
In a statement, the broadcaster elected President is asked to prove where and how the channel spread false news, as stated by trump. According to the editorial, such charges, together with the refusal to answer the questions of the journalist of CNN violate the first amendment to the U.S. Constitution, which guarantees freedom of speech and press.
Comments
comments