Currency swings. Who is to blame for the sharp appreciation of the dollar and what will be further course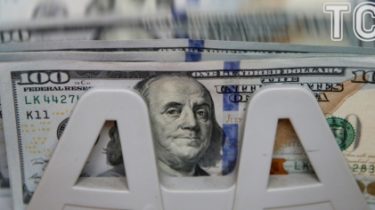 Currency swings. Who is to blame for the sharp appreciation of the dollar and what will be further course
© Reuters
The prices of goods and products after takeoff to depreciate along with the currency will not.
In Ukraine during the new year holidays rose sharply, the dollar and the hryvnia depreciated. Versions of why it happened, many from unstable global economy, depending on gas.
This is stated in the plot of TSN.Week.
At the end of 2016 to reduce budget debit credit, that is to spend as planned the government has paid for all collected during the year debt. In one fell swoop! Pensioners, for example, received two pensions for December and advance for January. All who could to save even a penny went to buy dollars. And the Ukrainian currency market simply failed. The dollar today is 28,80 UAH, Euro 30,70 UAH.
"Bad news for next week – 29,40 hryvnia per dollar. Why? Because in December the Ministry of Finance Shatila in the economy 140 billion – is in two times more than in other months. And people started to massively buy dollars. In addition, the Bank may print up to 5 billion hryvnia because of the bankruptcy of "platinum Bank". Although the national Bank is actively throws dollars on the market to calm the panic, until the end of January, unfortunately, the situation will be difficult," predicts Olena Korobkova with the banking Association.
See also: Jan economic: the dollar gained 3 hryvnia and loud accusations against the leaders of the NBU and the DGF
The currency may get cheaper in a month.
"According to our forecasts, this will happen in mid-February. The dollar will be around 27.5 hryvnia," says Korobkov.
"The hryvnia has been the victim of excessive spending from the state budget at the end of the year. A significant amount of money through the corruption schemes fell in the "black" currency market and rocked the course. Now the situation stabiliziruemost warmed panic appetite for the dollar arrives. I would not advise to buy the dollar more for 29 hryvnias next week. A further course will be included in the corridor 27,5-28,5 hryvnia," – says financial analyst Vitaly Shapran.
Although, as taught Ukrainians a bitter experience, if the dollar returns to the level of 27.5 hryvnia, the prices for everything is already pulled up, not coming back. First Orient travel company – counted the cost of travel. Rapidly climbed up imported fruit and vegetables and drinks. Well, and then – drugs, equipment. And off we go. And the most insulting, that no one of responsibility for another artificially created round prices will not suffer.
Comments
comments