January economic: the dollar gained 3 hryvnia and loud accusations against the leaders of the NBU and the DGF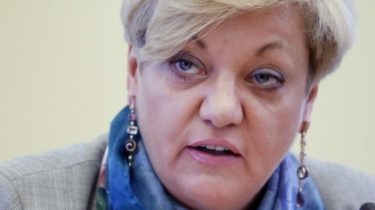 January economic: the dollar gained 3 hryvnia and loud accusations against the leaders of the NBU and the DGF
The head of national Bank Valeria Gontareva© UNIAN
In 2017 already "busted" one commercial Bank.
Dollar worldwide against the background of scandals in the US around the newly elected President of Donald trump is only strengthened. And in Ukraine generally makes a mad jump – three hryvnia per month. This week the dollar in Kiev already sold on 29,20 UAH.
This rapid fall of the hryvnia was not long ago. Even the national Bank, which at first promised to wash their hands and leave the hryvnia in free swimming, Friday, January 13, announced the auction of 100 million dollars to a little to support the national currency. This is stated in the plot of TSN.Week.
Before that, however, the NBU has hit the nerves of Ukrainians by the insolvency of one Bank from the twenty of the largest – "platinum Bank". And the guarantee Fund of deposits of physical persons now have another 4 billion hryvnia to pay these depositors at least 200 thousand. But the intrigue here – much more. Because in parallel it became clear that the current Deputy head of the national Bank Ekaterina Rozhkova, which until the summer of 2015 directed "platinum Bank", is already out of the Cabinet, the NBU advised the current managers, how to assess the assets cheaper. In the network appeared the recording of her telephone conversations. Do such conversations Rozhkova does not deny. And says talks with the leaders of troubled banks.
But here's what they suggest from main Bank, it now checks a Specialized anti-corruption Prosecutor's office. They began pre-investigation against the head of the NBU Valeria Gontareva and the head of the Fund of guaranteeing of deposits of physical persons of Constantine Voroshilina regarding possible fraud with the assets of insolvent banks amounting to 315 billion hryvnia. We are talking about a probable underestimation of the value of the property of the bankrupt banks, then to on the cheap to sell it. This is dug the Prosecutor of the Prosecutor General Vladislav Kutsenko. And, according to Facebook, based on his report the matter to investigate. The national Bank in the same Facebook responded that no document about it has not received. And assure that they are willing to assist law enforcement in the investigation.
Comments
comments