Russia let inspectors to military facilities, and Ukraine can mobilize officers"jackets"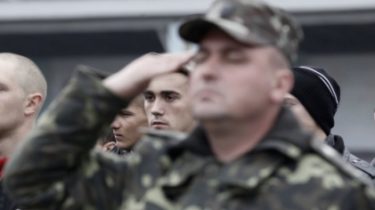 Russia let inspectors to military facilities, and Ukraine can mobilize officers"jackets"
© UNIAN
The war in the Donbass has lasted for almost three years.
Today, January 15, in the Luhansk frontline killed an officer of the Armed forces of Ukraine. There is a group of Ukrainian military came under fire from anti-tank missiles.
This is stated in the plot of TSN.Week.
But amid the escalation in the Donbas, Russia finds another reason to give the impression that has nothing to do with the militants, who kill Ukrainian soldiers. Today, the Russian media loudly announced that Russia has opened up Ukraine's military bases allowed to inspect military facilities on the territory of the Rostov region near the Ukrainian border that currently Kiev does not control. It serves as an unprecedented act of good will. Although silent, that on this annual. Is in accordance with the so-called Vienna document in the edition of 2011, with the eloquent title "On the strengthening of confidence and security in the region."
Inspects military facilities is not Ukraine, and the OSCE with the participation of different member countries of this organization. This year's military facilities in Russia will be visited by a Dutch officer, one officer from Canada and two verifiers of the Ukrainians. That they will see on Rostopshina, officers will report not in Kiev, and in the headquarters of the OSCE.
The same inspections are carried out on the territory of Ukraine. Recall that in March 2014, the militants in Slovyansk in Donetsk region was captured exactly the same group of verifiers.
The stay of Ukrainians in Russia will last only four days – from tomorrow till Thursday. Scheduled helicopter over-flight and ground inspection of the area.
The fact that this observation mission war will not stop, no need to explain. The only proven path to peace – strengthening army. In Kiev it seems to understand. And already announced the possible mobilization of the so-called "jackets" – graduates of military departments of universities. Up to four thousand young people with diplomas in civil first will take additional training. Well, then to make up for the shortage of Junior level officers at the front.
Comments
comments