Tuck predicted the beginning of the liberation of the occupied Donbass in the fall of 2017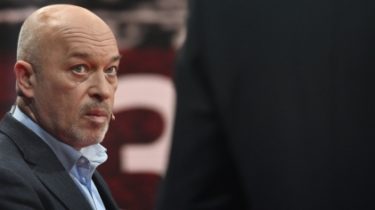 Tuck predicted the beginning of the liberation of the occupied Donbass in the fall of 2017
© Dnia
According to him, most likely, it will occur to non-military means.
Deputy Minister for the occupied territories and internally displaced persons Georgy Tuka said that the liberation of the Donbass from the militants will commence in the fall of 2017.
About it Fat said on air Еспресо.TV.
"On the return of the Donbass, I have the distinct impression that we will be able about the fall, perhaps, to start a real process of return of these territories. Most likely non-military means, and I certainly hope so," said he.
George Tuck stressed that it will not happen because Ukraine agreed to hold elections in the occupied territories, and due to the fact that Russia will cease to economically support these areas because of pressure on her.
Also read: Turchinov called the 2017 year as a turning point in the liberation of occupied territories of Donbass
"For any calculations of any experts, if only to stop the economic support, even if you leave in the balance the military component, the Central government of Ukraine will need up to three months to restore order there," – said the Deputy Minister.
Thus Tooke believes that the liberation from Russian occupation of Crimea and Donbas must be separated from each other. In his opinion, to return the annexed Peninsula will need much more time.
We will remind, earlier the Deputy Minister of the temporarily occupied territories and internally displaced persons, ex-Chairman of the Luhansk OVGA Georgy Tuka said that in 2018 Ukraine will return the Donbass. "My expectations are optimistic. Next year Ukraine will return Donbass", – he wrote in a column for the "New time".
In the occupied territories a lot of people who are willing to rise up against the terrorists – Tuk
ATO
September 22, 2016, 23:55
Add to favourites
Adviser to the Minister for the occupied lands Georgy Tuka says that in the occupied territories Mature rebellions against militants. However, how to behave in such a case, Ukraine does not yet have a strategy.
Comments
comments