Action Pushilin criticized Gerashchenko and encouraged to return to Minsk Medvedchuk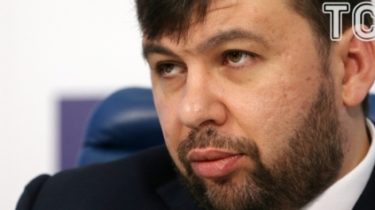 Action Pushilin criticized Gerashchenko and encouraged to return to Minsk Medvedchuk
Denis Pushilin© Getty Images
But the MP is blaming militants in the breakdown of negotiations on the exchange of hostages.
One of the leaders of "DNR" and the participant of the talks in Minsk Denis Pushilin accused Ukrainian side in the breakdown of negotiations and criticized the first Vice-speaker and representative of Ukraine in the humanitarian sub-group Irina Gerashchenko.
The representative of the "press service" Pushilin Victoria Talakin wrote that Gerashchenko allegedly wrecked the talks, "leaving English". She called the statements of the Ukrainian representative "incorrect". Pushilin also said he did not want to discuss the exchange of prisoners without Viktor Medvedchuk.
See also: New silence regime in Donbas and the "formula Steinmeier". What a deal on the next "Minsk"
"According to "DPR envoy" Denis Pushilin, the Ukrainian negotiator's behavior is absolutely incorrect. Representatives of the "LDNR" recorded the fact that discuss the exchange of prisoners without the presence at the meetings of Viktor Medvedchuk does not make sense", the report said Talkinog.
Irina Gerashchenko, in turn, noted that the exchange of hostages block representatives of the militants.
"Despite a call by the leaders of the Normandy format and the pipeline to release before the new year and the hostages a gesture of good will from the Ukrainian side – one-way transfer of 15 persons, liberation of hostages and in the future, blocked. Moreover, the representatives of ORDA said that their gesture of good will was the transfer of Taras Kolodiy and two women whose fate, along with all the other hostages we have discussed in Minsk. And now they are again insisting on Amnesty as a prerequisite for release and transfer of approximately 700 employees in exchange for about 50", – stated in the message Gerashchenko on the social network Facebook.
In addition, the politician noted that despite the promise before the Christmas holidays to release podrostkov, who were accused of sabotage, invaders still keep a minor in jail.
"The Ukrainian side insists on the immediate unblocking of the release of the hostages, we noted those realistic compromises, proposed a few months ago to unblock the process of liberation", – added Gerashchenko.
Earlier, Irina Gerashchenko reported that Ukraine has made a gesture of goodwill, when unilaterally handed over to the fighters of 15 people in order to unblock the process of liberation of hostages.
Comments
comments