In the center of Kiev ice block smashed parked car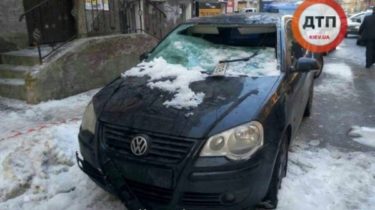 In the center of Kiev ice block smashed parked car
Kiev
Today, 17:52
1 of 7

© facebook.com/dtp.kiev.ua

1 of 7

© facebook.com/dtp.kiev.ua

1 of 7

© facebook.com/dtp.kiev.ua

1 of 7

© facebook.com/dtp.kiev.ua

1 of 7

© facebook.com/dtp.kiev.ua

1 of 7

© facebook.com/dtp.kiev.ua

1 of 7

© facebook.com/dtp.kiev.ua
© facebook.com/dtp.kiev.ua

© facebook.com/dtp.kiev.ua

© facebook.com/dtp.kiev.ua

© facebook.com/dtp.kiev.ua

© facebook.com/dtp.kiev.ua

© facebook.com/dtp.kiev.ua

© facebook.com/dtp.kiev.ua
Because of the incident the traffic in the city center were blocked.
In the center of Kiev ice block fell from the roof parked on the side of the car.
This was announced dtp.kiev.ua on his page in Facebook.
"The roof fell block of ice, seriously damaged two cars," – said in the message.
As noted, because of the incident, which occurred on the street Gonchar, was closed to traffic.
As a result of falling of ice no one was hurt.
Recall that throughout the week, weather forecasters predict again snow and frosts of up to -10 in the night. And at the end of the week promises a -20 night. According to forecasts, the winter promises to be protracted.
Comments
comments