The case of major Tolstosheieva can close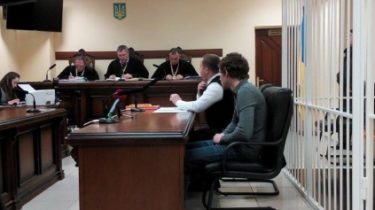 The case of major Tolstosheieva can close
© Photo by Dmitry Svyatenko/TSN
Another examination showed that during the accident he was unconscious.
Major Stanislav Tolstoshevthat car left the pavement and hit and killed a woman who can avoid punishment.
This was announced by the Prosecutor's office of Kiev in Facebook.
Another examination of the claims that during the accident he was unconscious, and, while Tenno was insane. According to experts, at the time of the accident the driver Stanislaus Tolstosheieva first had an epileptic seizure, which led to a temporary loss of control over the car's handling. At the time of the accident Tolstoshev was not in a state of alcoholic or narcotic intoxication.
Through medical contraindications Tolstoshev cannot operate vehicles. A driver's license issued in his name, cancelled and destroyed in a lawful manner.
"In the near future criminal proceedings will take a final decision in the Prosecutor's office", – concluded the press service.
Recall, January 9, 2015 in the capital at the metro station "Levoberezhnaya" jeep with Donetsk numbers at great speed flew on the sidewalk and ran into the shop natural marketwho died.
See also: Major Tolstosheev disappeared from official places of residence
Subsequently, the reporters found that the culprit – Stanislav Andreevich Tolstoshev – the son of businessman Andrei Tolstosheieva of Druzhkovka of Donetsk region. Parents Tolstosheieva claimed that he had a congenital heart defect.
According to the journalist Dmitry Gnap, Tolstoshev not the first time became the culprit of the accident and had previously escaped punishment. 13 Jan Tolstoshev suggested the suspicion.
Family majeure Tolstosheieva avoids talking with reporters
TSN. 19:30
September 12, 2016, 20:34
Add to favourites
TSN tried to find young guilty of fatal accident in Kiev, which the day before fell short. The public Prosecutor demands to continue the investigation into the son of a businessman from Druzhkivka. The GPU promised the perpetrators in the coverage of crimes boys will be brought to justice.
Comments
comments