Poroshenko announced when can be withdrawn anti-Russian sanctions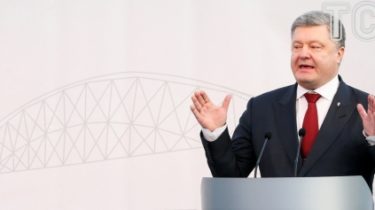 Poroshenko announced when can be withdrawn anti-Russian sanctions
© Reuters
Poroshenko thanked Biden for his recent decision to expand sanctions against Russia.
The President of Ukraine Petro Poroshenko stressed the need to maintain sanctions against Russia until full restoration of the territorial integrity of Ukraine.
He said this at a joint press conference with Vice-President of the United States Joseph Biden, reports UNIAN.
"I emphasize that these sanctions should remain in force until the restoration of territorial integrity of Ukraine within its internationally recognized borders, including the Crimea", – said the President.
See also: trump does not rule out easing sanctions against Russia after the reduction of Moscow's nuclear weapons
Recall President Barack Obama extended for another year sanctions against Russia, which expire in March of this year. It is reported RIA Novosti with reference to the White house. Sanctions extended in connection with the aggression of Russia against Ukraine.
Earlier, the us leader promised that the United States is not limited to publicly announced sanctions and will continue to do various actions against Moscow.
In the U.S. Senate introduced a bill on new sanctions against Russia because of cyber attacks and the situation in Ukraine. Republicans John McCain, Lindsey Graham, Robert Portman, as well as Democrats Ben Cardin and Bob Menendez introduced in the Senate a bill on additional sanctions against the Russian Federation through the Russian cyber attacks and the situation in Ukraine. The proposed sanctions relate to individuals, energy sector and banking system.
Comments
comments