Biden held a meeting with Volodymyr Groysman. What the Prime Minister promised the Vice-President of the United States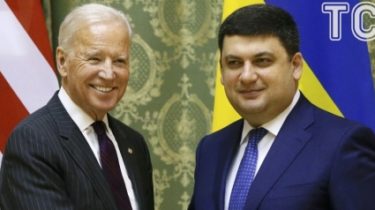 Biden held a meeting with Volodymyr Groysman. What the Prime Minister promised the Vice-President of the United States
© Reuters
The us official is on a visit to Kiev.
Prime Minister of Ukraine Vladimir Groisman promised to the Vice-President of the USA Joe Biden to go through reforms.
He said this during his meeting with Biden, UNIAN reports.
Read also: Sanctions for a full recovery of the integrity of Ukraine: Poroshenko and Biden discussed the pressure on Russia
"I want to assure you that the government and I as Prime Minister is not going to stop the way of changes inside the country. We will continue to go through the reforms that will bring peace, stability and tranquility in our state. We will do everything to ensure that Ukraine has taken place, the efforts that we made and attached lead us to success. I know that the changes we make will be the best contribution to the success of our country", – said Groisman.
"Our reforms and changes, the openness we need an effective fight against corruption we need. And it's not just lofty words is what will make us stronger. We are 100% committed to the changes in our country and will do everything to make your contribution, which you did one year, was a success," the Prime Minister said Biden.
While Biden holds talks with President of Ukraine Petro Poroshenko.
According to the White house, during the visit of Vice-President intends to underline its support for Ukraine, and to mark the 25th anniversary of diplomatic relations between the United States and Ukraine. After Kiev Biden, who the post four days left, will go to economic forum in the Swiss Davos.
Comments
comments