New body. American stopped drinking alcohol and lost 75 pounds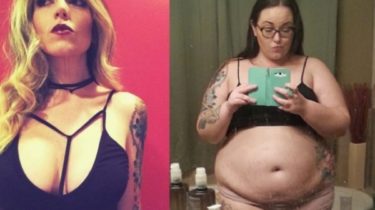 New body. American stopped drinking alcohol and lost 75 pounds
Curiosities
Today, 19:04
1 of 5

Courtney Maguire
©

1 of 5

Courtney Maguire
© facebook.com/courtney.maguire

1 of 5

Courtney Maguire
© facebook.com/courtney.maguire

1 of 5

Courtney Maguire
© facebook.com/courtney.maguire

1 of 5

Courtney Maguire
© facebook.com/courtney.maguire
Courtney Maguire
©

Courtney Maguire
© facebook.com/courtney.maguire

Courtney Maguire
© facebook.com/courtney.maguire

Courtney Maguire
© facebook.com/courtney.maguire

Courtney Maguire
© facebook.com/courtney.maguire
The girl had changed beyond recognition.
30-year-old Courtney Maguire of Houston (Texas, USA) weighed 140 pounds and was down to 65 after quit bad habits and began to monitor their body.
Training at the University caused the girl's depression, so she abused akogol, drugs, and throw around money and had a poor diet.
See also: 23 effective Board, which will facilitate "torture" of losing weight
Courtney for a long time she worked as a beautician and denied that suffered from obesity. She avoided mirrors and photos and had problems with personal life, writes the Daily Mail.
"Dating was hard, I was constantly rejected due to weight, and men who really wanted to meet me, as a rule, examined my weight problem as a fetish" – says the girl.
Her struggle with excess weight took years, but Courtney again to the figure at 140 pounds. In the end, she passed the procedure of gastric bypass, no longer the problem to drink alcohol and actively engaged in sports – Pilates, yoga and exercises in the gym.
The Americans managed to lose 75 pounds. Two years of sobriety Courtney has given himself the operations to lift the skin on the abdomen and breast augmentation to make her body look even more perfect.
"Like an alcoholic who is recovering, I know that if I hadn't been sober, none of this would be possible. I ride a motorcycle – something I would never have the courage to do before losing weight," says Courtney.
Earlier, scientists have found that drinking dry red wine can help keep weight or even lose weight during the new year holidays. The researchers claim that this alcoholic beverage contains a large amount of the substance resveratrol, which helps burn calories and turn white adipose tissue into beneficial brown fat tissue.
Comments
comments