Under Mariupol skirmish between militants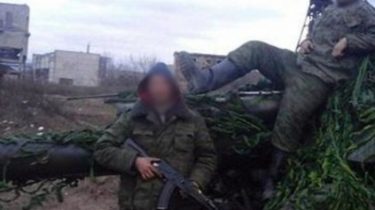 Under Mariupol skirmish between militants
© National police of Ukraine
Who and why opened fire at Ukrainian soldiers only guess.
Pre-occupied Novoazovsk profit specially trained soldiers, insurgents who are driving the deserters back to the trenches, because in recent years the separatists have increased the number of cases of escape and even suicide. The Ukrainian military have other problems – fog and drizzle, said in the story TSN.19:30.
"The intensity is greater at night and during the day as a mist, then less. Night start shooting, provocation, approaches DRG", – said the marine with the call sign of "Cube". "They're trying to run up and shoot at us, and we are trying somewhere to run. So it is for half the night, a – nu, we have," explains a marine with the call sign "Smile".
In the occupied territories appeared detachments of soldiers who force fighters return to the trenches
TSN. 19:30
Yesterday, 20:29
Add to favourites
The enemy appeared defensive squads. In Novoazovsk profit specially trained fighters who, where the word is, and where and physical strength, drive the militants back into the trenches. Between the occupiers, saying our scouts, in recent years significantly increased the number of desertions, and even suicides.
The lack of success drains the enemy. Intelligence indicates that the separatists are fleeing from the positions after fighting with the Ukrainian military. "The enemy is demoralized. According to our data, send the special unit to restore order at them, as people do not want to fight against us," – said marine "Focus". Came even before that night, the militants have opened fire on their own. Ukrainian soldiers still don't know what exactly happened on the enemy positions. "By the Nameless moved the car with the lights on, and they with their front positions himself in the rear opened fire on the car. Assume, came to the Russian journalists, and they opened fire and say that it made the dill," says a marine "Shrek".
While there is such weather – not shoot the enemy artillery. And that's a relief for Ukrainian soldiers. Now they have a little time a day to engage in economic Affairs – to chop firewood, emptying the dirt from the trenches and prepare meals.
The TSN reporter Ruslan Yarmolyuk
Comments
comments