The defenders of the mine Butovka retook rebel positions in Donetsk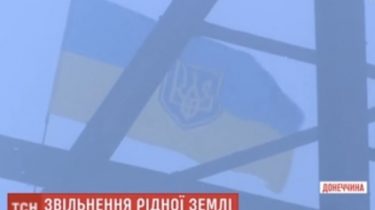 The defenders of the mine Butovka retook rebel positions in Donetsk
Geographically, the mine is located within the regional center.
300 meters of our native land, fought off the defenders of the mine Butovka, which succeeded in driving the enemy from their positions. Victory fighters celebrated the establishment of the largest in its front the flag, says the story TSN.19:30.
The defense there is now holding the military of the 72nd separate mechanized brigade. Members noted nearby in Avdiivka medals, narodnimi signs and gifts. The commander of crew Andrey Sokolov have received the weapon – a pistol "Stechkin". With medals the military quickly returned to combat position. Say, awards wear, when going home to the children, and now not to differences – we need to continue to fight.
The defenders of the mine Butovka pushed the enemy
TSN. 19:30
Yesterday, 21:00
Add to favourites
They managed to fight off 300 meters of his native land from the enemy, and they set the biggest flag in their positions that the enemy were it can be clearly seen. This gift was made by the men on your holiday. Team celebrates 75th anniversary of its creation.
Soldiers of the 8th company call themselves "stalkers". One of them in the morning, scrambled to the top of the mine Butovka and hang a large flag 2 by 3 meters with a Trident in the middle. "This flag for a bull a red rag. Angry shoot, but I can not get" – say military. About reclaimed from separatists the ground tell us that already entrenched in the same positions of the enemy. "The skirmish was 70 metres. Now 400 meters", – says the fighter with the Callsign "Basalt".
As previously reported, from the mine Butovka, where the focus of the ATO forces, almost did not remain a live place: projectiles and shrapnel riddled the walls. Therefore, soldiers have to hide underground. This position militants fired at from several sides.
The correspondent TSN Alexander Country
Comments
comments