Lavrov responded to the claim of Ukraine against Russia in the international court of justice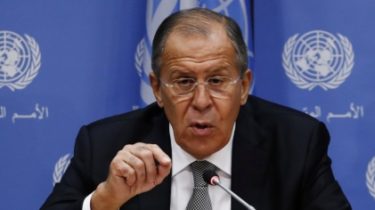 Lavrov responded to the claim of Ukraine against Russia in the international court of justice
© Reuters
Ukrainian diplomats country occupant accused of unwillingness to engage in dialogue.
The Russian foreign Ministry decided to respond to the submission by Ukraine of the claim against Russia under the International Convention on the suppression of the financing of terrorism and the International Convention on the elimination of all forms of racial discrimination.
The foreign Ministry says that Russia "has always strongly condemned any manifestations of terrorism and actively fights against it" and "sincerely tried to understand the essence of claims of the Ukrainian side". Ukrainian diplomats in the foreign Ministry of the country-occupier accused of unwillingness to engage in dialogue.
See also: Big win over law of the Russian Federation. What does the report of the Hague on occupied Crimea
"It is worth noting that the Ukrainian side in the consultations declared "terrorists", "DNR" and "LNR" – participants of the Minsk process, which itself is in the framework of the negotiations. We don't understand how statements about "terrorism" are correlated with the Minsk process in which the parties, with the assistance of international mediators trying to find a balanced solution for the peaceful settlement of the conflict," – reads the statement of the foreign Ministry.
"Obviously, the main – if not only – goal of Ukraine originally was not a settlement of any dispute, and the search for a reason to appeal against the Russian Federation in the international Court of justice", – concluded Lavrov added that an appeal to the international Court of justice "pursues only short-term political interests."
Russia is also once again referred to the rights "of Russian and Russian-speaking population of Ukraine". "But Ukraine has shied away from substantive dialogue on this subject," said the diplomats.
We will remind, Ukraine has filed a lawsuit in the international court of justice with the aim to attract the Russian Federation responsible for the Commission of acts of terrorism and discrimination for its illegal aggression against Ukraine.
Comments
comments