The foreign Ministry of Ukraine outraged by statements of another Le Pen on the legality of the annexation of Crimea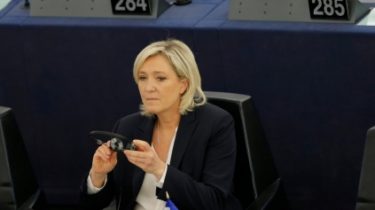 The foreign Ministry of Ukraine outraged by statements of another Le Pen on the legality of the annexation of Crimea
© Reuters
Support the occupation of Crimea and its annexation is a violation of the UN Charter.
The Ministry of foreign Affairs of Ukraine expressed outrage the next statements marine Le Pen in the Crimea and notes that allegations of this nature are void as from historical and legal points of view.
This was reported in the press center of the MFA of Ukraine.
It is noted that France and the international community expressed its support for the territorial integrity of Ukraine and condemned the illegal occupation by the Russian Federation of the Autonomous Republic of Crimea and serious violations of human rights in the occupied territories.
"Support the occupation of Crimea and its annexation is not only a violation of the UN Charter and fundamental principles of international law, but also encouraging the state-occupier to further criminal acts against the local population", – stated in the message.
The foreign Ministry is convinced that the statements of any responsible politician and candidate for President should be based on respect for international law, sovereignty and territorial integrity of other States, not to serve the interests of a third party, which is pursuing a policy of aggression and occupation.
We will remind, the candidate in presidents of France, the leader of the party "national front" marine Le Pen has promised in case of victory on elections of the head of state to recognize the Crimea part of Russia.
Earlier, Le Pen declared that does not consider the annexation of the Crimea illegal.
"I absolutely do not think that the annexation was illegal: there was a referendum the inhabitants of Crimea wanted to join Russia", – said the leader of the far-right party "national front".
In turn in SBU noted that to prohibit the entry of Le Pen in the Ukraine for such a statement regarding the Crimea.
Comments
comments