Lyashko accused parasiuk in the beating of police in the Donetsk region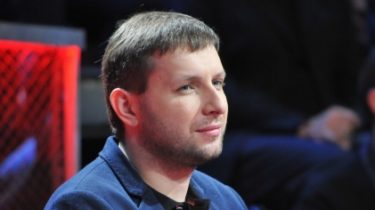 The leader of Radical party Oleg Lyashko accused the independent MP Volodymyr parasiuk that he struck the officer in the Donbas.
"Vladimir Parasyuk struck the officer in the Donetsk region. Is the floor and a very bad example for all Ukrainians, whatever Parasyuk not motivated their actions. Vladimir must either control myself or to be treated," wrote Lyashko on his page in Facebook.
The main radical of the country does not tell about the incident, but he probably meant was during the trade embargo in Bakhmut.
Press t he national police of the Donetsk region reported that the employee Bakhmut police Department has received a thorax bruise at the checkpoint in Bahmut, 4 February, when a group of people tried to prevent the inspection of their car.
According to the police officer present at the place of one of the people's deputies of Ukraine who take part in the blockade of the railway crossing in Bahmut, began to interfere and to interfere with the inspection. He instructed the driver to leave the checkpoint and hit the officer in the torso.
Vladimir Parasyuk denies the accusations in their favor.
"Official statement. I didn't hit anyone. You have a bad informants", – Parasyuk wrote in the comments to the post Lyashko.
"Information discrediting of the embargo reached the point of absurdity. Today I got another stuffing that I was beaten by police. Maybe enough of these provocations? I didn't punch anyone," he added.


That Parasyuk was not beaten by police, also wrote his father Zinovy Parasyuk and MP semen Semenchenko, who is also taking part in the trade blockade.
"Mr. Lyashko, I was together with my son on this post, I give you my word of honor, which for me is very mean, it was not. And You need to apologize," wrote Zinovy Parasyuk and promised son to hit ljashko if he did not apologize.

We will remind that the people's Deputy Vladimir Parasyuk is not the first time marked with a loud conflicts and fights with politicians. Earlier, the MP threw a glass at prosecutors after the judge of the Transcarpathian court of appeal refused to soften the measure of restraint for the party to fight in Drahobrat fighter "Right sector" Uhryniv Peter ("Pedro"). In September last year Parasyuk had a fight with a MP from the Opposition bloc Alexander Vilkul after the broadcast on the TV channel "112 Ukraine".
About intention to block all entrances and exits to the ATO area , activists reported back in December last year. Then Secretary of the NSDC Oleksandr Turchynov commentedthat the decision is within the competence of the President of Ukraine.
Comments
comments