"Repent, Russia". In St. Petersburg people picketed against the actions of the Russian Federation in the Donbass, met resistance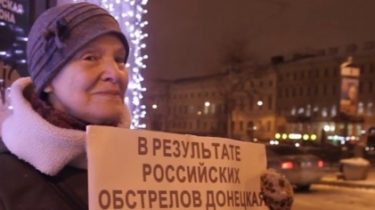 In Saint-Petersburg on Nevsky Prospekt on Sunday, February 5, held a protest against Russia's actions in Eastern Ukraine, where resumed massive shelling of the Town.
Activists stood in single pickets, prevented the provocateurs from the Pro-Kremlin organization "National liberation movement", reports "Radio Freedom".
See also:
Avdeevka coke warned of serious problems from the impending frost
Ordinary passers-by approached the protesters with threats and obscene language. Some may remember the days of Kievan Rus and declare that "without Russia there would be no Ukraine."
The protesters believe that Russia involved in the conflict in the Donbas.
We will remind, on January 29, militants stormed Avdeevskiy industrial area. Ukrainian fighters managed to recapture, however, the terrorists of that day do not cease shelling the peaceful city.
Due to the intense shelling of the city has left nearly 300 people, damaged houses, apartments, and lines, from which de-energized Avdiyivka coke plant. Now the Ukrainian side managed to resume the supply of electricity, gas, heat, water in the city is given on the schedule.
Comments
comments