Russian opposition in the air "Russia 1" laid the blame for the war in the Donbass on all Russians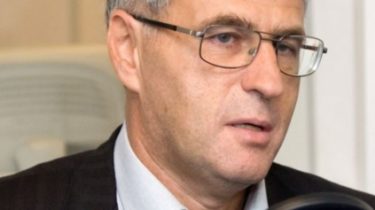 Russian opposition politician Leonid Gozman said that Russia and all Russian citizens responsible for the war that continues in the Donbas.
"The citizens are responsible for the horror that is happening in the East of Ukraine," – said Gozman in the Russian TV channel "Russia 1".
Gozman, who is head of the public movement "Union of right forces", and to make such statements. In particular, in connection with an active attack of Russian-terrorist troops in Avdeevka, the politician said that the blood of the civilian population of Donbass is to Russia and citizens of Russia.
"This terrible war, with casualties on both sides, violence could continue for more than a day if we did not support – arms, money, people – the so-called leaders of the "republics", which, in my opinion, a crime," – said Gozman.
He also dispelled the horror stories about genocide, which is supposed to make the Ukrainian authorities in the liberated from the militants territories. As an example, he recalled the city of Sloviansk, which at the beginning of the Russian aggression was held under the control of insurgents, headed by Russian citizen Igor Girkin-Strelkov.
"When we went to Ukrainian army, when knocked Girkin from Slavyansk, there were no incidents. There is established a normal life, there is no humanitarian catastrophe," – said Gozman.
"Our guys have nothing to do there," said the politician. At the same time, he noted that the Russian authorities, on the contrary – this war is at hand. Because in this way the Kremlin achieves the consolidation of society and creates a common enemy against whom we must fight.
Video performance Gozman began to spread in social networks. Users surprised by the fact that the opposition was given the opportunity to make such statements on television. Some have suggested that the Kremlin decided to "merge" the project "LNR/DNR". However, Gozman himself rejected such reasoning.
Recall that in late January, Russian-terrorist troops started actively shelling of the Town. In the village declared an emergency.
Comments
comments