The Russian side hampers repair work near Donetsk — ATO headquarters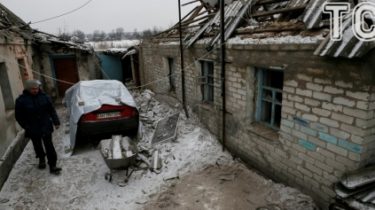 At the headquarters of ATO stated non-constructive approach of the Russian side of the JCCC to the solution of humanitarian problems, respectively, this significantly complicates the reconstruction of the destroyed infrastructure of Donbass.
This was reported in the press center of staff ATO.
So, in the area bounded by the settlements of Avdeevka—Yasinovataya—Donetsk airport—Sands and two districts of Donetsk, 8:00 a.m. Sunday, February 5, was supposed to start the cease-fire proposal on February 3, which was expressed by first Deputy specifically monitoring mission of the OSCE Alexander hug.
See also:
Militants fired Avdiyivka from the tanks and failed the assault of the industrial zone. The situation in the ATO zone
Therefore, after the start of the mode "Silence" was supposed to begin repair work to restore the important facilities of life and infrastructure.
"The armed Forces of Ukraine and the Ukrainian side of the Joint center for control and coordination of ceasefire, fully supported this initiative and provided written security guarantees to carry out repair works on the objects of infrastructure", — reported in the headquarters of ATO.
However, the reconstruction of infrastructure began to "block" the Russian side, reducing the number of engineers.
"At the same time, the Russian side of the JCCC as of 06.00 on 5 February has unilaterally limited the number of employees and engineers required for repairs up to 10 people at a time when quality implementation requires a minimum of 30 people", — stated in the message.
We will remind, on the eve of the fighters from "Gradov" fired at the settlement Sartana. They were widely used rocket artillery against not only the positions of the APU, but on civilians in the Ukrainian rear.
Comments
comments