What is actually Obama said Trump. The Network has shown a parody of the inauguration of the U.S. President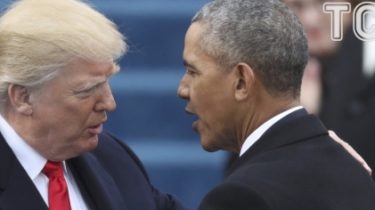 On a humorous Youtube channel Bad Lip Reading appeared a parody of the inauguration of U.S. President Donald trump. The anonymous author applied to the image of funny remarks, which correspond to the movements of the lips characters.
See also:
Touching moments: Ivanka trump showed a cute video with her baby in the White house
The video includes footage with trump meeting with the 44th US President Barack Obama, who allegedly said to him: "You suck" ("You suck"), and also the episode with the ex-President George Bush and former Secretary of state and an opponent of trump's election – Hillary Clinton. Between them also occurs a funny "conversation": "it Seems we have a problem", "said" Bush. – "Leave it with me, we'll squeeze it," responds Clinton.
The ceremony of transfer of power to the Trump caused the explosion of creativity in social networks. In particular, the users under the tags #FreeMelania and #SadMelania z asolute why the wife of the head of state was upset at the inauguration. This is accompanied by hundreds of humorous images, the main message which is a call to trump's "free" woman.
Comments
comments