Avdeevka is restored: the children were sent to school, and repairers took up a damaged home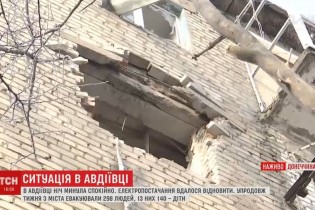 On the outskirts of Avdeevka again heard the sounds of battle, as reported by the head of the observation mission of the OSCE Alexander hug. However, to the Town during the day, the shells did not reach, says TSN.16:45.
They have managed to restore power supply. According to the emergency service during the last weeks of the city evacuated 298 people, including 140 children.
Light rebuilt all over the city, day crews worked in the Old plant. There was a partially broken power lines. Today resumed classes in schools. Came for the classes 505 students. Currently available only two schools. 89 students, who last week went to a sanatorium in Svyatogorsk, also today went to school. The work of the kindergarten plan to restore soon.
Work continues on the restoration of power supply at the coke plant and filtration plant. Repair crews are currently working to restore water supply. Promised that reserves will be enough for a few days. The water is fed on schedule. In the evening planning another pumping water.
All forces are now thrown on the repair of damaged houses in the private sector there are about 200 known damaged about 25 homes. But people say that helping only with tape and chipboard sheets to close the window and cover the damaged roof. But slate and other building materials people do not give.
As of February 5 due to the shelling in Avdiivka was damaged about 180 houses and flats. January 30 fighters killed in Avdiivka last line of supply, which energizes Avdiivka coke plant. Then the city was left without heat, water and light. Now heat and gas in the apartments include, water include on schedule.
Comments
comments