In Kiev unknown defeated the exhibition dedicated to Maidan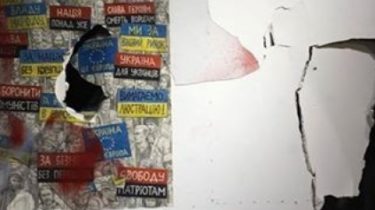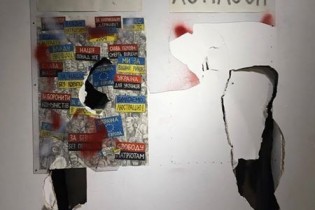 On Tuesday, February 7, a group of unidentified men vandalized an exhibition of artist David Chichkan "Missed opportunity" in the Center of visual culture in Kiev.
On the Center page in Facebook noted that the group of boys and girls attacked the security guard, using against him in pepper spray. Then they broke down the protective coating and destroyed most of the works of art presented at the exhibition. Some of the works were stolen.
The attackers left messages on walls with spray paint, including "Servants of Moscow", "Separable" and a Trident, stylized Celtic cross. All the attackers were 15 people in the Center for visual culture, we call them "neo-Nazis".
The author's tour of the exhibition was scheduled for February 4, but it was canceled due to threats. David Chichkan was an active participant of the Euromaidan. He professed anarchist views and considers that the results of the revolution, Ukraine has not achieved the desired goal. Their own conclusions from the Maidan he embodied in a series of works, the exhibition which is held in the Center for visual culture.
Comments
comments