Burial in Kiev has become a luxury: ritualnie explained the reasons for exorbitant prices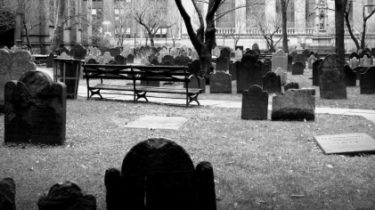 Soon in Kiev will have nowhere to bury people. All cemeteries are closed or half-closed, so there can only be pokhoronite person to relatives, the "beneficiaries", outstanding figures of science and culture and soldiers of the ATO. So far the only open cemetery is located 45 km from the capital, causing problems with arrival.
However, if the lack of documents proving kinship with the previously buried, you can negotiate with the administration of the cemetery. Price question – from thousands of dollars depending on the cemetery. To bury the deceased on one of the rural cemeteries, located around Kiev. However dumping is possible only with rural residence. Resident of the capital will have to pay 10 thousand UAH for a place. Therefore, for the majority of the burial is a luxury, so mostly relatives choose cremation. So, in Kiev cremated almost 90% of all deaths. However, this is not some fashion for cremation, and all because of the impoverishment of the population. To cremate the body is at least half the price of a burial, reported TSN.19:30.
Owner funeral home "Felix" tells that the burial of "turnkey" costs at least 10 thousand hryvnia, the cremation will cost you five thousand. The urn can be buried in the columbarium Baikove cemetery for almost 3 thousand UAH for a place.
The problem of shortage can be solved with the help of private cemeteries. However by law, they are prohibited. Such an initiative would raise the level of funeral services as a whole, believe in the ritual Agency.
In Belogorodka under the capital there is a new cemetery, which belongs to the community of the village and is supported by its funds. The cemetery is guarded, there is lighting, lawns and a place for goodbyes. The cemetery does not expect to restart enclosures, custom order large monuments, also there are no tables and the like.
At the request of TSN, as the government will solve a question with shortage of places for burial in the KSCA was limited to letter. Officials claim that work on the problem: "the Department of housing and communal infrastructure is working to expand the boundaries of the Forest and South cemeteries, as well as searches of land outside of Kiev for the construction of new cemeteries."
Ukraine's population is rapidly declining. Today, 100 deaths is just 64 newborns. And every year the mortality rate will only grow, experts predict. Therefore, the place of burial will only worsen.
Ivan Vorobyov
Comments
comments