The city Council decided to rename the street Wanda Wasilewska and the metro station "Petrovka"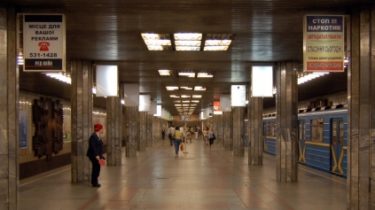 The Commission of Kyiv city Council on renaming supported the idea of renaming the metro station "Petrivka" in "Pochayna".
This was announced on his page in Facebook the founder of the Public movement "pochayna" Annabella Morin.
"The Commission names the city Council has just adopted the decision on renaming of the metro station "Petrovka" to the station "pochayna". Members of the Commission and present so many good things said about the Pochaina and renaming!" – she wrote.
According to activists, the next stage is two months of public discussions on the website of the city Council.
In turn, the KP "Kiev metro" said that the comments on Facebook the results are not counted.
"In 56 years of work has already been renamed 13 stations, one twice (the Area of Kalinin – the Area of the October revolution – independence square)," – said in the Metropolitan.
Besides in a press-service of the Kiev city Council said that he supported another initiative to rename.
"I propose to rename in honor Hawrylyshyn is the street Wanda Wasilewska, because it is subject to the law on decommunization and has not yet been renamed. Furthermore, located in close proximity to the International Institute of Management, the first business school in the Soviet Union, which Bohdan Hawrylyshyn was founded in 1988. The contribution of B. D. to the development of Ukrainian science, Economics, charity, and education of the Ukrainian youth of the new generation cannot be overestimated. He became a symbol of the new Ukraine", – said the Deputy of the mayor — city Council Secretary Volodymyr Prokopiv.
Separately, the city Council said that, after receiving public comment, the Commission will re-examine the proposals and recommends (or not recommends) mayor to make appropriate representation to the city Council. After consideration of the relevant standing committees of the city Council decision will be taken by the deputies at the plenary session.
As reported, an outstanding Ukrainian Havrylyshyn died 24 Oct. About the tragic news in Facebook announced a charitable Foundation, whose President he was. "The last minutes of his life Bogdan D. spent with family in his apartment in Kiev", – stated in the message. The body of a prominent economist's plan to cremate in Ukraine and then drive to Geneva.
Comments
comments