"We will come to you dead." Zakharchenko responded to the elimination of the "Givi"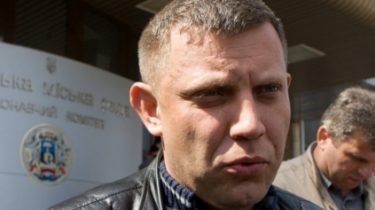 The so-called "head" of the terrorist "DNR" Alexander Zakharchenko gave a press conference about the destruction of the leader of the battalion "Somalia", terrorist, Mikhail Tolstykh, known under the Callsign "Givi".
His statement was broadcasted by the Russian propaganda channels.
See also:
After the "Motorola" the ad went "Givi". Murder and assassination of leaders "DNR" and "LNR"
So, Zakharchenko said that the "investigation" continues, and the Ukraine is "to amend the lists of terrorist organizations."
"Today was basely murdered by the battalion commander with the Callsign "Givi" Mikhail Tolstoy. Previously — it was a terrorist attack. The investigation establishes the guilty, soon we'll find out. We are at war with a terrorist organization. On the battlefield they fail to defeat us. In every attempt to advance they received "coppers." And they are killing us despicable. I appeal to all the Ukrainian authorities and servicemen. All you will not have to shoot, we will come to you dead. And still we will kill you. You officially gave us that right. The Ukrainian government should be included in the lists of terrorist organizations."
Recall, the defense Ministry confirmed information about the elimination of the militants "Givi" in the Donbass.
Terrorists, in turn, stated that "Givi" destroyed in his office in the occupied Donetsk with a flame thrower "bumblebee".
Comments
comments