Prime Minister of Greece Tsipras for the first time visited Ukraine and met with Ukrainian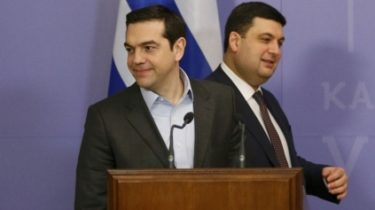 Wednesday, February 8, Ukraine for the first time visited Prime Minister of Greece Alexis Tsipras. In Kiev, he met with the head of the Ukrainian government Volodymyr Groisman.
The heads of governments discussed issues of economic cooperation. The result of the negotiations was an agreement to resume work of the intergovernmental Commission on trade-economic cooperation to enhance cooperation in the economic sphere, according to Government portal.
"There are a number of views and proposals made by my colleague, from the point of view of the meeting of the intergovernmental Commission, at which it will be possible to discuss the state of our bilateral cooperation and to identify those areas that will enable us to develop including economic cooperation," – said Groisman at the meeting.
Alexis Tsipras, in turn, noted that Greece is interested in deepening cooperation between the two countries.
"Our two countries share very close relations, which are based on the total that we have, what to do with our shared history, religion, world Outlook. We are very interested in finding those new aspects of the relations between our two countries that would lead to the improvement of the economic situation in our countries", – said Greek Prime Minister.
See also:
Greeks took to the streets with Molotov cocktails because of the economical budget Tsipras
Also politicians discussed the situation in the East of Ukraine. Groisman noted that the visit of Tsipras reaffirms support and solidarity of Greece with the Ukrainian people. The Greek Prime Minister said that his country is closely following the developments in the Donbas and in favor of finding a peaceful resolution to the conflict. Tsipras said that the Minsk agreements are one of the most important tools that help in its resolution.
Separately, he noted that on the territory of Ukraine live about 100 thousand ethnic Greeks and Greece's interest that their accommodation was safe.
The head of the Greek government first arrived in Ukraine at the invitation of Poroshenko. He will be in our state on 8 and 9 February. Meeting Poroshenko and Tsipras will be held tomorrow, February 9. Scheduled at 11.00 ceremony of welcoming the high guest on Bankova.
We will remind, the Prime Minister of Greece Alexis Tsipras was sworn in before the nation in January 2015. It is noteworthy that in may 2014 he called the Ukrainian government "neo-Nazi" and urged the EU to recognize the Ukrainian authorities.
Comments
comments