The Greek Prime Minister in Kiev, went to the St. Sophia Cathedral and talked to Poroshenko about bitwise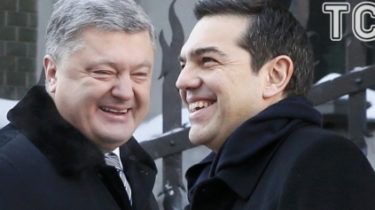 Prime Minister Alexis Tsipras is on a working visit in Kyiv. He has already held talks with the head of the Ukrainian government Volodymyr Groisman, visited the St. Sophia Cathedral and held a meeting with President of Ukraine Petro Poroshenko.
.@PrimeministerGR A. Tsipras and FM @NikosKotzias visit the world famous Saint Sophia Cathedral in #Kyiv #Ukraine pic.twitter.com/PpREBAOdLB
— Ministry Εξωτερικών (@GreeceMFA) February 9, 2017
Ukraine and Greece have agreed to strengthen economic cooperation and work in the field of tourism. The Prime Minister noted that Greece supports the territorial integrity of Ukraine and the Minsk agreement. He stressed that sanctions against Russia need to find a way out of the situation in Ukraine.
Poroshenko and Tsipras noted the warm atmosphere of the negotiations, despite the cold in Kiev. pic.twitter.com/zzqzJ2wq8V
— Svyatoslav Tsegolko (@STsegolko) February 9, 2017
In addition, Tsipras is convinced that the question of bitwise for Ukrainians will be resolved positively.
Recall, this is the first visit by Tsipras to Ukraine. He came here at the invitation of Poroshenko.
Comments
comments