Just for the benefit of the Russian Federation: trump in conversation with Putin criticized the Treaty on nuclear disarmament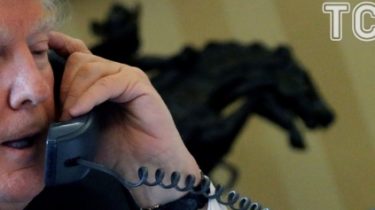 Became known the details of the first telephone conversation between Donald trump and Vladimir Putin. During the conversation, the US President criticized the Treaty on nuclear disarmament, calling it beneficial only to Russia.
This writes Reuters, citing two sources in the presidential administration and a former us official familiar with the contents of a telephone conversation.
Sources said that when, during the conversation, Putin raised the question of a possible extension of the contract from 2010, known as start-3, tramp paused and turned to his aides with the question, what kind of a contract. In the end, trump said Putin that the agreement was one of the failed transactions concluded by the Obama administration.
The white house declined to comment. Also failed to get a comment from the Kremlin.
Recall that during the election debates in 2016, trump said that Russia has "outsmarted" the United States with the Treaty. Trump called wrong that the Treaty allowed Russia to continue to produce nuclear warheads, while the United States does not.
See also:
The Kremlin does not know what to prepare for during the first meeting trump-Putin
We will remind, on January 28 during a 40-minute conversation the President of Russia Vladimir Putin and the United States, Donald trump has not discussed the abolition of sanctions against Russia for its military aggression against Ukraine. According to the press-Secretary of Putin, Dmitry Peskov, the sides discussed the importance of restoring trade relations and agreed on the upcoming meeting, date of which will be announced later.
In addition, the press service of the Kremlin stated that the presidents of the United States Donald trump and Vladimir Putin during a telephone conversation , among other things, talked about Ukraine.
Comments
comments