Difficult partners: Steinmeier seeks to dialogue with Russia and the United States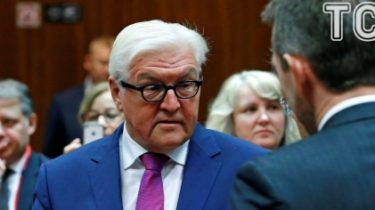 The newly elected President of Germany Frank-Walter Steinmeier wants dialogue with Russia and the United States.
This writes the "DW".
According to him, now formed the "new order of international relations", developing a new relationship between Moscow and Washington, which it is difficult to predict.
In his opinion, it is impossible to refuse dialogue "even with difficult partners." Steinmeier noted that if in the past the "difficult negotiating partners" of Germany were mostly in the East, now there are difficulties in the transatlantic relationship.
Difficult negotiations he expects with the new head of the White house Donald trump. Also the newly elected President of Germany added that, in his opinion, the concept of foreign policy of the new American government still do not understand.
See also:
The new face of German diplomacy. As the successor Steinmeier will affect Ukraine
What is known about Steinmeier
Steinmeier's political career began in the team of Gerhard Schroeder. Steinmeier was headed by the office of the shredder, when he held the post of Prime Minister of the Federal state of lower Saxony. After 1998, the SPD had the opportunity to form the Federal government, schröder became Chancellor and Steinmeier moved with him to Berlin, where he was appointed Secretary of state of the government.
2005, Steinmeier became foreign Minister of Germany in a coalition government of the CDU/CSU and the SPD, which was first headed by Angela Merkel.
In 2007, he also took the post of Vice-Chancellor.
In 2009 Steinmeier has put forward a candidate from the SPD to the post of the Federal Chancellor, however, on the election to the Bundestag, the social Democrats suffered a crushing defeat.
In 2013, after the next Bundestag elections and re-forming a "Grand coalition" of the conservative Union of CDU/CSU with the SPD, Steinmeier once again headed the Ministry of foreign Affairs.
Steinmeier called the "anti-trump." Politician involved in the question of exchange of prisoners in the Donbas and condemned the contrary opinions of Russia in Aleppo, Syria.
We will remind, Steinmeier officially nominated for President of Germany in mid-November 2016. Therefore, on January 27, was appointed the new head of the German foreign Ministry it was Sigmar Gabriel.
Parliamentary elections in Germany will take place on 24 September 2017.
Comments
comments