Russian investigators accused the APU in use in the Donbass weapons of mass destruction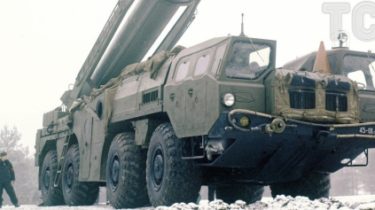 The Investigative Committee of the Russian Federation stated that he had received "irrefutable evidence of the use of APU's weapons of mass destruction" in the Donbass.
This is stated in the press service of the Ministry.
"In the framework of criminal investigation of the events in the South-East of Ukraine surgically obtained and procedurally fixed irrefutable evidence of the use of the Armed forces of Ukraine weapons of mass destruction – tactical missile complexes "Tochka-U" against the civilian population in armed conflict", – is spoken in the message.
As noted, one of the most powerful weapons in the Arsenal of modern Ukrainian army are missile complexes "Tochka-U", a significant number of which remained on the territory of Ukraine after the collapse of the Soviet Union.
According to the investigation data, the Ukrainian military allegedly used curb high-fuganki and cluster warheads of missiles against the civilian population of Donbass, in particular, on settlements of the Luhansk region in the city of Lugansk, in the villages of Novosvitlivka and Thorns in Krasnodon district, in the town of Rovenki, in the village of Jubilee of the city of Lugansk.
"High-explosive head portion centered actions at undermining forms to 14.5 thousand pieces for lesion area of 2-3 ha. a rocket with a cluster warhead, provides defeat of manpower and soft-skinned vehicles in the open area ranging from 3.5 to 7 hectares, forming to 15.8 thousand pieces", – underlined in SK the Russian Federation, assuring that the use of such weapons indicates the purpose of the Kiev authorities to totally destroy the population and infrastructure of the South-East of the country.
Separately, the Russian investigators decided to remind that international treaties prohibited the use of arms, leaves no chance to survive as belligerents and civilians during the clashes or military conflicts.
"Ukrainian soldiers acted in violation of the Minsk agreements, and provisions of the Convention on the protection of civilian persons in time of war (Geneva, 1949) and Additional Protocol II thereto," – said the Russian SK, noting that they set individuals who are involved in crimes.
We will remind, earlier Russian investigators have accused the Ukrainian military in the shelling of the Town. In the Russian Federation shifted the responsibility for the crime fighters of national guard and VSU.
Comments
comments