Russia has offered to "forgive" the debt Yanukovych for the light in the Crimea, – Dzhemilev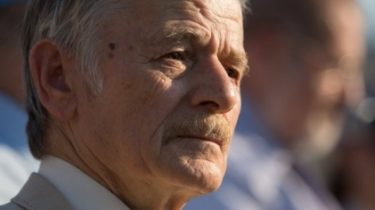 Russian officials have offered the Ukrainian government to "forgive" the "debt of Yanukovych"if Ukraine will resume electricity supply to the annexed Crimea.
This was told by MP and the Commissioner of the President of Ukraine on Affairs of the Crimean Tatar people Mustafa Dzhemilev in an interview with "Apostrophe".
"I know that when they blocked electropotence it was visited by the commissioners. It's never in the press is not passed, I Avakov called and said, "you Know, they went to Yatsenyuk. Russian officials offered to forgive $ 1 billion debt Yanukovych, if we reconnect the electricity. As you look at it?", – said Dzhemilev.
See also:
Danyluk predicted the date of the decision of the London court on the "duty of Yanukovych"
In turn, he replied: "We do not sell your home. Let offers, we will not connect".
According to Dzhemilev, the Russians also appealed to Poroshenko.
"Now he says that they ran before Poroshenko. Poroshenko on the subject wouldn't talk to me. But judging by the fact that they empty the hands went, of course, what was the response of Poroshenko. So the blockade has severely hit him, she did much more of the contents of the Crimea", – said the MP and the Commissioner of the President of Ukraine on Affairs of the Crimean Tatar people.
Recall, January 17, at 10:30 London time (12:30 on Kiev) started the proceedings regarding the "debt of Yanukovych". On January 19 in the High court of England ended the hearings on the suit of the Russian Federation against Ukraine proablly debt of $ 3 billion, which is also called "duty of Yanukovych". Then the judge promised as soon as possible to inform about his decision.
The government of Mykola Azarov has received a loan in the framework of agreements between Russian President Vladimir Putin and then-President Viktor Yanukovych in December 2013. Borrowing was issued through the redemption of Eurobonds of Ukraine at $ 3 billion through the Irish stock exchange. In 2015, the Russian side did not accept the terms of debt restructuring, demanding from Kiev for his return. The Ukrainian government refused to acknowledge the debt to official and insisted on its commercial basis.
In turn, the IMF has recognized the debt to Russia official, but said that lending to Ukraine will continue, even if it defaulted.
30, 2015, the Cabinet of Ministers of Ukraine adopted a decision to impose a moratorium on the payment of the debt of the Russian Federation.
Comments
comments