Valentine's Day is attacking the capital of a powerful wind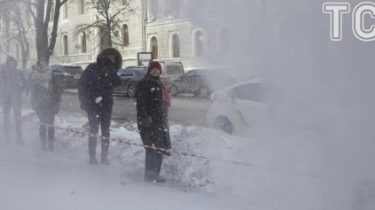 In Kiev in the next hour and hold till end of day on February 14 are expected wind gusts of 15-20 m/s.
It is reported in the KSCA, with reference to information of the Ukrainian hydrometeorological center.
Valentine's Day in Kiev, cloudy weather, light snow is expected.
On the roads in some places sleet.
In case of strong winds the Kiev suggest tightly close the Windows, clean with balconies and loggias items that can fall out; to stay away from billboards, power lines, trees.
People in Kyiv are not to go near big trees, especially poplars, and also not to Park near to them cars.
See also:
In Kiev decorated with public transportation to Saint Valentine's Day
Recall, 14 of February in Ukraine the weather will be cloudy. In the afternoon, in addition to most of the Western regions, light snow. In the East, the Poltava and Dnipropetrovsk regions and moderate snow.
On the roads in some places sleet. Wind West, North-West of 7-12 m/sec. Day places, except the West, gusts of 15-20 m/sec. Daytime temperatures of 3 degrees Celsius to 2 degrees Celsius. In Transcarpathia up to 6 degrees Celsius. In the Eastern regions-1-6 degrees below zero.
Comments
comments